Nous allons décrire dans ce post un problème rencontré sous Exchange 2010 lors de la mise en place de la synchronisation du courrier avec ActiveSync sur un appareil mobile. Lors de la tentative de synchronisation le message (Source MSExchange ActiveSync, ID 1053) suivant apparaît sur le serveur CAS:
Exchange ActiveSync doesn't have sufficient permissions to create the "CN=<user name>,OU=<OU Name>,DC=ldap389,DC=info" container under Active Directory user "Active Directory operation failed on <dc-name>.ldap389.info. This error is not retriable. Additional information: Access is denied.
Active directory response: 00000005: SecErr: DSID-03151E04, problem 4003 (INSUFF_ACCESS_RIGHTS), data 0
".
Make sure the user has inherited permission granted to domain\Exchange Servers to allow List, Create child, Delete child of object type "msExchangeActiveSyncDevices" and doesn't have any deny permissions that block such operations.

Une solution est proposée dans cet article, cependant dans notre cas l'héritage était bien activé sur le compte. Le problème vient du fait que notre compte est de la classe InetOrgPerson et non de la classe user.
Quand on regarde les permissions mises en place lors de l'extension de schéma pour Exchange 2010 qui sont détaillées dans cet article Technet:

On remarque que la création d'objets msExchActiveSyncDevice par "Exchange Servers" n'est autorisée que sur les objets de classe user mais par sur les objets de classe InetOrgPerson. Ce qui interpelle, c'est que pour d'autres types de permissions les deux classes d'objets utilisateur sont bien prises en compte:

Il nous suffit d'appliquer les mêmes permissions pour les objets de classe InetOrgPerson et le problème est résolu: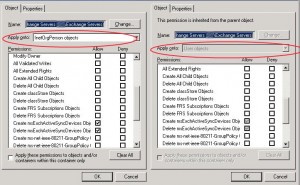 Permissions à mettre en place au niveau de votre domaine si l'emploi des comptes utilisateurs de classe InetOrgPerson est généralisé.
Merci à mon collègue UtOpiK et à l'équipe d'intégration du projet Exchange 2010 d'avoir remonté ce bug.
MAJ 15/02/2013: Résolu avec Exchange 2010 SP3, le post est mentionné dans la KB2552121 :-).
This post is also available in: Anglais